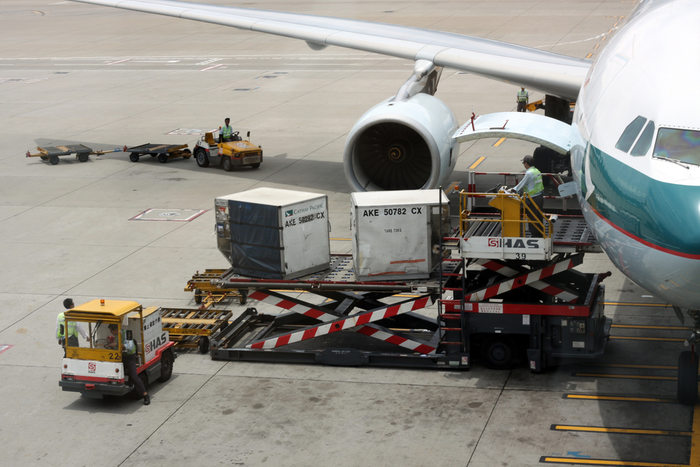 Air cargo volume out of China through August — deep in the industry's traditional slack season —  has continued to improve, driven by a rise in demand for e-commerce products from consumers.
While the volume of air cargo exports from China was 17 percent down on the same month last year, that was a major improvement on the lows of April when the tonnage was down 41 percent, according to air cargo analyst CLIVE Data Services.
Driving the trans-Pacific volume is online shopping, with the International Air Transport Association (IATA) reporting that Asia-North America volume was up 0.7 percent in July, the latest month for which it has data available, growth it attributed to strong US e-commerce demand.
That rising demand continues to outpace the available capacity, however, which in August was down 19 percent year over year. Much of the passenger fleet, which provides half the trans-Pacific cargo capacity, remains grounded with travel restrictions imposed to combat the spread of the coronavirus disease 2019 (COVID-19).

The supply-demand imbalance is keeping rates at elevated levels, sending prices soaring at the end of August. Average rates on Shanghai-North Europe as assessed by TAC Index on Aug. 31 rose by almost 11 percent compared to last week to $3.60 per kilogram and are 27 percent higher than at the same point in 2019.
Shanghai-North America rates increased almost 12 percent over last week to $5.35/kg, up 26 percent year over year, while Frankfurt-North America rates edged up 1.4 percent from last week to $4.12/kg
Niall van de Wouw, managing director at air cargo analyst CLIVE Data Services, described last month's activity as "not great, but by no means a disaster." He said the data show earlier fears were unfounded that volume would fall sharply when demand dropped for personal protective equipment (PPE) as countries built up inventories in the fight against the coronavirus disease 2019 (COVID-19).
"Our August data shows the year-over-year decline in volume is decreasing," Van de Wouw said, although he did not provide actual tonnage figures.
The weekly rate fluctuations are important and offer a more detailed view of airport-airport prices with most of the business now being conducted on the volatile spot market. For example, CLIVE data show rates from Shanghai (PVG) to Amsterdam (AMS) from June 29 to Aug. 31 increasing by 22 percent, peaking on Aug. 3 at 10 percent higher than on the last day of the month. For the full month of August, rates fell 5 percent compared to the previous month on trans-Pacific lanes, and dropped 2.5 percent on routes from China to Europe.
"The capacity crunch is still there but is becoming slightly less and, as a result, load factors and yields are closer to pre-COVID levels, even though they are still elevated," Van de Wouw said. Air cargo yields on China-Europe routes are up 25 percent year over year, and on the trans-Pacific are up 35 percent, TAC Index data show.
The end of year peak for air cargo traditionally occurs well into the fourth quarter, but this year that could be pushed forward by a range of product launches scheduled for the end of September. Smartwatches, phones, and other tech products will keep the limited air cargo capacity under pressure and push up rates.
Fred Westdijk, CEO of Jan de Rijk Logistics, said he did not see any signs of air freight slowing down in the fourth quarter.
"Economists and banks are pessimistic about Q4, but most of our customers are bullish about the future," he told a Dutch logistics webinar hosted by the Netherlands Foreign Investment Agency on Sept. 2. "We are getting a lot of requests from electronics companies for capacity in the fourth quarter for their product launches ahead of the Christmas season."
Rapid response to supply and demand
Robert Frei, business development director at TAC Index, said the general pricing trends revealed that reaction to supply and demand movements was happening more swiftly.
"This obviously has also to do with most carriers and forwarders breaking their contracts during the crisis and the fact that procurement is now done on a shorter term basis," he said in an update on August rate developments.
"With shippers also finding forecasting even more difficult during the present conditions, this situation may continue for some time. All parties are currently looking at new ways of negotiating contracts, possibly using index linked agreements or new risk management tools outside of the physical market. Such instruments are well-known and successfully practiced in other industries but are new to the air cargo market."
Frei noted that air freight has for many carriers and forwarders been the main source of revenue over the last couple of months, which was also shown in their results, and added, "The importance of air cargo to the recovery of global trade has become very visible and recognized."
Data from aviation analyst Cirium show that 43 percent of the world's widebody passenger planes, which provide more than half the global freight capacity in their bellies, are currently parked. The International Air Transport Association (IATA) is not expecting passenger demand to return to pre-COVID-19 levels before 2024, and IATA director general and CEO Alexandre de Juniac said although economic indicators were improving, it was not being fully reflected in growing air cargo shipments.
"One of our biggest challenges remains accommodating demand with severely reduced capacity," he said this week in an industry update. "If borders remain closed, travel curtailed and passenger fleets grounded, the ability of air cargo to keep the global economy moving will be challenged."
Van de Wouw also highlighted the "massive uncertainty" over when passenger demand would return. "The huge idle fleet of passenger aircraft needs to start flying again but no one's expecting that to happen soon in terms of great quantities of capacity. In the meantime, air cargo will continue to have its day in the sun and combination carriers will have to hope this can sustain their slimmed down operations until passenger confidence and bookings return."